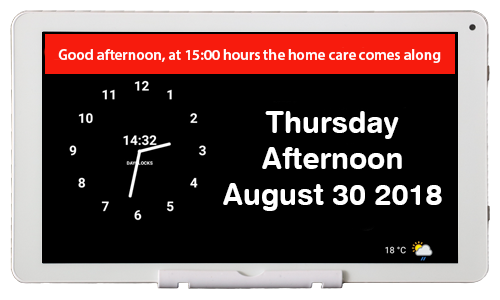 Your loved one sees all the information to get / keep a grip on the time at a glance:
The date
The time, the combination of analogue and digital (as shown above) or, if desired, exclusively analogue or digital.
The day part, (morning, afternoon, evening or night).
Video calling (only available on the DayClock10 duo); You can see and speak to your loved one very easily. You can establish a video call connection to DayClock at any time via your smartphone or laptop and end it yourself after the call.
The temperature, (indicates the temperature + sun, rain etc. in the city you specify. The weather conditions are adjusted every 2 hours.
The language, You can set the DayClock in the following languages: English, Dutch, Frisian, German, French, Spanish, Italian, Portuguese, Norwegian, Swedish, Danish and Finnish.
Screen lock: To prevent the possibility that unwanted screens appear (by mistake) when the DayClock is held, you can set up a screensaver. The screen can not be changed via the DayClock itself (with the exception of the on / off button).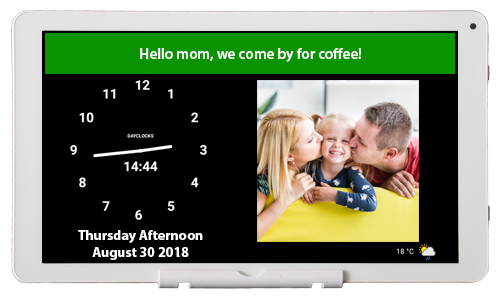 The message and photo function are available when you use the DayClocks subscription (you will receive a username and password for logging in remotely on the DayClock of your loved one).
The message bar: Here you can place a greeting, a message, a scheduled appointment or a reminder for the user.
The photo album; Here you can place a photo of your choice that matches the message.
Examples and functions for the message bar:
Ergotherapists about the DayClock